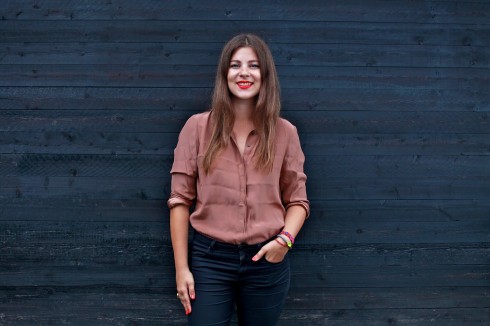 Jessie, how did you came up with the idea founding "Journelles"?
"Journelles" is the logic consequence from what I have been doing in the past years- first LesMads, then my experiences at the INTERVIEW Magazine paired with a personal wish of doing something on my own again. 

What's going to happen with LaJessie?
LaJessie has always been something like a private diary that was living on my instagram pictures. I will continue writing it, however, it might not be filled that regular as I put my entire lifeblood into "Journelles" as well.
Have you missed the extensive contributions in the blog format since you left LesMads?
Taking a break for one year was the right decision which allowed me the required slow movement. However, I love the freedom of forming things according to my personal ideas- and that is what the blog format absolutely accomplishes.
What do you think about the blogging scene today? Is a "Blogazine" the blogger's future?
Since I left LesMads, things have not changed quite a lot, at least no spectacular innovative formats have arised. Optically as well as content wise "Journelles" will definitely go into the direction of a "Blogazine". For me the service for our readers takes the top priority: one should be able to get informed and be inspired.
Which topics can we expect?
Of course there will be a heavy focus on fashion issues, however, also beauty and living are very important topics for me. There will further be many self-produced stories such as home stories, career and instagram interviews. Personality and subjectivity are crucial, they are the driving force of the blog. That's why we will also do outfit posts (JOURlook). Sole reviews of collections and lookbook images is what I will try to avoid and develop independent formats instead. Furthermore, there won't be a news flash in "Journelles"- only special features will have their place in bits.
Are they sort of an accompanying contribution to your work as an online editor for Interview.de?
I have resigned at INTERVIEW to focus thoroughly on my project. Either all or nothing.
Are the upcoming articles talk about womens- or menswear?
Unfortunately, I must disappoint the gents of creation and refer to my dear friend FabianHart.com.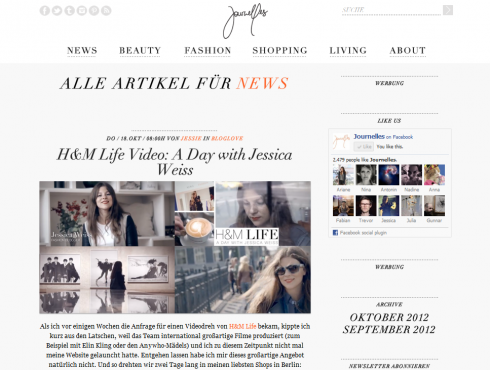 For my German readers:
Jessie, wie bist Du auf die Idee gekommen, "Journelles" zu gr√ľnden?
Journelles ist die logische Konsequenz von dem, was ich in den letzten Jahren gemacht habe 'Äď erst LesMads, dann die Erfahrung beim Interview Magazin gepaart mit dem Wunsch, wieder etwas Eigenst√§ndiges machen zu k√∂nnen.
Was passiert mit LaJessie? 
Lajessie war schon immer so etwas wie ein privates Tagebuch, das vor allem von meinen instagram-Bildern lebte. Das wird es auch weiterhin geben, vermutlich nur nicht ganz so regelm√§√üig bef√ľllt. Schlie√ülich steckt in Journelles auch mein ganzes Herzblut.
Haben Dir ausgedehnte Beiträge im Blog-Format seit Deinem Weggang von LesMads gefehlt?
Ein Jahr zu pausieren war eine gute Entscheidung, das hat mir die n√∂tige Entschleunigung erm√∂glicht. Ich liebe jedoch die Freiheit, Dinge meinen Vorstellungen entsprechend zu formen 'Äď und das leistet das Blogformat absolut.
Wie betrachtest Du heute die Bloggerszene? Liegt die Zukunft f√ľr Dich eindeutig im Blogazine?
Seit meinem Weggang von LesMads hat sich nicht viel ver√§ndert, zumindest sind keine spektakul√§ren neuartigen Formate entstanden. Optisch sowie inhaltlich wird Journelles in jedem Fall Richtung 'ÄěBlogazine'Äú gehen. F√ľr mich steht Leser-Service an erster Stelle: Man soll sich informieren und inspirieren lassen k√∂nnen.
Welche Themen erwarten uns?
Nat√ľrlich ist es wieder sehr modelastig, aber auch Beauty- und Wohnthemen liegen mir am Herzen. Es gibt viele eigens produzierte Geschichten wie Homestories, Karriere- und instagram-Interviews. Pers√∂nlichkeit und Subjektivit√§t sind wichtig, sie sind der Motor des Blogs. Daher gibt es auch wieder Outfit-Posts (JOURlook). Reine Kollektionsreviews und Lookbook-Abbildungen m√∂chte ich vermeiden, daf√ľr entwickele ich eigenst√§ndige Formate. Ebenso wird Journelles kein News-Ticker mehr sein 'Äď nur Besonderheiten finden ihren Platz im H√§ppchenformat.
Sind sie als eine Art Begleitbericht Deiner Arbeit als Online Editor bei Interview.de zu verstehen?
Ich habe bei INTERVIEW gek√ľndigt, um mich voll und ganz auf mein Projekt zu konzentrieren. Entweder ganz. Oder gar nicht.
Wird es sich bei den Modethemen, um Frauen- oder Männermode handeln?
Die Herren der Schöpfung muss ich leider enttäuschen und verweise an dieser Stelle stets an meinen lieben Freund FabianHart.com.