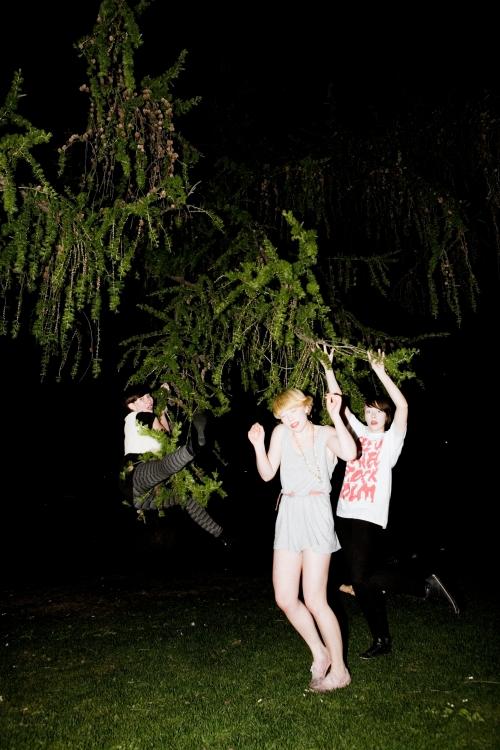 On the lookout for fresh talent Le Corps Mince de Francoise crossed my path almost two years ago. Since then the 3 Finnish girls never fail to cheer me up with their electrifying tunes. Be sure to watch out for their upcoming album 'Love&Nature' – this will be major!!
Long story short LD managed to hunt them down and got them to share some insights.
LD: The plot begins with "the body of the skinny 'Francoise' " which basically is what 'Le Corps Mince de Francoise' (LCMDF) means. Francoise actually has been inspired by the name of Malin's (member of LCMDF) cat. The cat unfortunately suffered from a tragic easting disorder and passed away – poor kitty.
LCMDF: Hahaha, correct. Kind of
 We're so tired of answering where our name comes from.
LD: Your first album 'Love&Nature' is rumored to hit the stores soon. Anything you can reveal already – thinking of the sound & featuring artists?
LCMDF: The album should be mixed by Switch, the guy who does Major Lazer, M.I.A, and Santogold.
LD: Emma you started LCMDF in 2006 and later took your best friend Malin (Nyqvist) and your sister Mia (Kemppainen) on board. What was the initiative to bring the project to life?
LCMDF: I put some songs up on myspace, and it all happened. We're still unsigned, 'cause we chose not to work with a record label. It takes a lot of hard work, and lots of genius pop hooks.
LD: Thinking of your sound, choice of clothes and make-up you, beyond doubt, have created a LCMDF signature style. Where do you guys get your inspiration from?
LCMDF: Kurt & Courtney. We don't have a lot of money so we usually use the same clothes a lot, and they get thorn and broken.
LD: You are all from Helsinki; Finland. Scandinavia in general really is defining the progressive lifestyle of today! In your opinion what's the source of this constant stream of talent and creativity?
LCMDF: Well, what Finnish band did you dig last? We are not actually even part of Scandinavia
 Finland is really big in heavy and emo.
LD: Reading about you the word "hipster" pops up more than once. The Guardian (February 2009) even recognised "LCMDF could be the one – the first – hipster electro-girl-group to break through." In fact I feel that you hit a nerve – truly capturing the spirit of a generation! Where do you think lies the essence of your music causing this hype?
LCMDF: Well, having good taste might be why we got where we are. Great pop songs and fresh sound. The record will have a great mishmash 90-sound like of Ace of Base, and modern sound of neu hippies like MGMT or late of the pier.
LD: What does music mean to you personally?
LCMDF: Music is my work. I have a serious love – hate relationship to it. I don't really listen to that much music at home, I like when it is quiet.
LD: Other than music what's your big passion?
LCMDF: I was studying graphic design in Helsinki before, and I'd really like to pick up my studies again later. I also love jogging.
LD: If you could be / do anything you want in the world what would it be?
LCMDF: Get this record out.
LD: You must spend a considerable amount of time in Berlin now as you are recording your music here. What would you say is your most beloved place in that city?
LCMDF: Well, we finished the record during the summer, but I have been living here since January. I like a lot of places. I'm usually hanging around Kreutzberg, Mitte and Prenzlauerberg.
LD: List of your current FAVs:
// Designer
JCDC
// Artist
Miike Snow
// Film
The Ice Storm
// Magazine
Kasino A4
// Blog
I don't read that many blogs. I got a nervous breakdown and deleted 600 people from my Facebook, so it isn't that interesting anymore. I use internet to google pictures useable for live visuals, cover or other stuff.
But, if I had to mention a blog I surely enjoyed reading it must be Kissies.se. She's this incredible Swedish bimbo who writes about how she's gonna het implants and loose weight. Amusing as fuck.
Over & Out
Their energetic debut single 'Bitch of the Bitches' has been followed by the much hyped 'Ray-Ban Glasses'. The latest track 'Something Golden' is a first taste of the upcoming album and has also been released with the new Kitsuné Maison 8 compilation. Et voilà ..
(Photo © Le Corps Mince de Francoise)