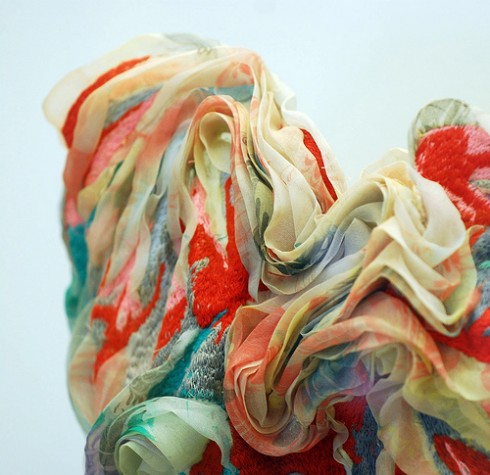 Marit Fujiwara, 27 years old, absolved her graduation last month in Textile Design (BA) at Chelsea College of Art and Design in London. The pictures present her final show works and her absolutly gorgeous talent. She allows us an insight of her experiences.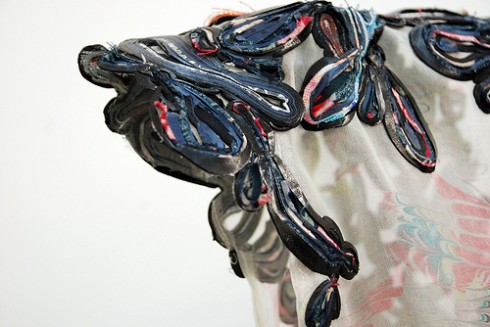 LD: Your work is your passion. Who trains you in technical realisation of your visions? A special person?
MF: I don't see myself as a very technical person. At Uni we had to learn everything by ourselves. I have never been taught a technique. It was all about research and developing your own techniques. I did not even know how to use a sewing machine..they said "the thread goes through here and you must press the paddle", that was all. I have learned everything by myself, they pushed to be creative. The rest is up to you.
LD: From where do you get your inspiration?
MF: I enjoy common things, especially objects that have been destroyd by the time
LD: This masterwork combines thousands of embroideries. Do you have a feeling how many stitches do you used for that?
MF: I have used a domestic machine to embroidery . It took me a long time and a vast amount of threads.
LD: How much time did you spend on it?
MF: It really depends of the dress. I guess the cake (colourful dress) is the one people are most interested in and is certainly the one that took the longest time, although I was producing more than one dress at the same time..if I had to reproduce it I guess it would take a hard two weeks plus a day for the printing..
LD: Thank you so much for your feedback and i am looking forward to see more of your work!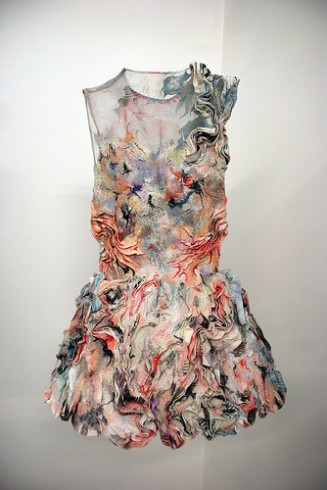 (Photos: By Courtesy of Marit Fujiwara / Special Thanks goes to UfoArtGallery in Hongkong)